Dee Aker, Ph.D
Dee Aker, Ph.D., is an Advisor for Strategic Peacebuilding Joan B. Kroc Institute for Peace and Justice at the University of San Diego's Kroc School for Peace Studies.  Dr. Aker is a psychological anthropologist and conflict resolution professional with over 40 years of experience working with international communities and individuals in transition.  Within her peacebuilding activities, her focus includes gender security and rights, as well as overall greater civil society engagement in building sustainable peace with justice.
At the Institute for Peace and Justice, Dr. Aker created the Women PeaceMakers Program, a program that documents the work of women globally in peacebuilding and human rights.  She also created WorldLink, a program for engaging youth in global affairs, and she developed an international series of conferences on women, peace, and security.  Dr. Aker produced and hosted a six-year television series on women activists and leaders from around the world, and as a freelance journalist and monthly columnist, she focused on human rights and gender concerns.  Dr. Aker collaborates and presents internationally on the intertwined concerns of conflict, gender, security and peace.  In 2014, she was inducted into the San Diego Women's Hall of Fame for her work in the service of women.  In 2015, she was awarded the 2015 Eleanor Roosevelt Human Rights Award from the San Diego Chapter of the United Nations Association and the 2015 International Impact Award from the University of San Diego.  Dr. Aker was also inducted into the United States International University-Africa's Hall of History for her service as Vice-Chancellor between the years of 1979-1984.
Titi Liu, JD
Titi Liu is the Director of International Public Interest Initiatives at the Levin Center of Stanford Law School. She develops and implements programs that support students who are pursuing a career path in international public interest lawyering and serves as a resource for leading practitioners in the field, with a focus on transitional societies.
Ms. Liu has a long career advancing social justice issues both domestically and internationally. She was the law and rights program officer for the Ford Foundation in Beijing, China and a State Department and USAID consultant.  Ms. Liu has been extensively published in the US and in China on the relationship between litigation and social change. She was most recently the Executive Director of the Asian Law Caucus, the first organization in the country to promote, advance and represent the legal and civil rights of Asian and Pacific Islander communities.  Prior to joining the Caucus, Ms. Liu was the Garvey Schubert Barer visiting professor in Asian Law at the University of Washington.  She holds a juris doctorate from Harvard University and a bachelor's degree from Harvard College.  She is fluent in Mandarin Chinese. 
 Shalini Nataraj
Shalini Nataraj, is currently Vice President of Programs with the IngFoundation, a private philanthropy focused on advancing human rights.  Prior to this, she was Director for Advocacy and Partnerships with the Global Fund for Women, where she also headed the Program Team for over six years.  Shalini has over twenty five years experience in designing and implementing programs to promote human rights and systemic, positive change in the lives of marginalized communities, primarily through grantmaking. She has deep expertise in program design and management, evaluating social change initiatives and in engaging donors in innovative philanthropic enterprises. Shalini has extensive experience working on human rights issues, with a specific focus on women's rights and on addressing societal inequalities with a feminist lens. She has also worked on environmental sustainability programs and on using advocacy successfully to strengthen community-based activities to bring about social change.  In addition to serving on the board of EDGE Funders, she also serves on the boards and advisory committees of foundations and organizations related to food sovereignty, women's rights and progressive philanthropic practices.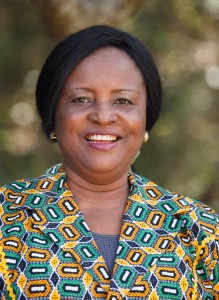 Stella Odife
(Chief Mrs.) Stella Odife joins the board from Nigeria, where she is a barrister, handling corporate finance matters in between her extensive work to promote women's rights. Stella has authored two books on gender equity issues in Nigeria, and co-founded the Women's Organisation for Gender Issues ("WOGI"), a United Nations NGO in Lagos. WOGI teaches women in rural Nigeria how to start their own businesses and gain economic independence, educates women about their legal rights and providing free legal services and counseling, as well as bringing lawsuits in Nigeria to challenge discriminatory practices. Stella is a past Deputy Governor of the Anambra State in Nigeria, as well as a Chartered Mediator, a member of Federation of International Women Lawyers (FIDA), and currently a member of the Governing Council of International Institute of Leadership and Governance in Abuja, Nigeria. We are honored to have Stella's intelligence, insight, and indefatigable energy to the cause of gender equity around the world.