Andrea Carlise, Executive Director
Andrea Carlise leads IANGEL with a long history of passionate advocacy for gender equity, diversity, and inclusion. She is a past president of both the National Conference of Women's Bar Associations (NCWBA) and California Women Lawyers.  She served on the No Glass Ceiling Monitoring Task Force of the Bar Association of San Francisco, and as the NCWBA's Liaison to the American Bar Association's Commission on Women in the Profession, where she co-chaired the Commission's sexual harassment committee.  
Prior to joining IANGEL, Andrea worked as a litigation attorney for 28 years, specializing in labor and employment law. She served as an Assistant County Counsel for the County of Alameda, leading its Advocacy Division and serving as General Counsel to the County's Human Resource Services Department, and its Diversity Programs Office.  Before working for the County, Andrea was the managing partner of Patton Wolan Carlise, LLP, a litigation boutique in Oakland, California. She also serves on and is a past president of, the Board of Directors of her local Girls Inc., an organization that empowers girls to be strong, smart and bold through educational and community programming.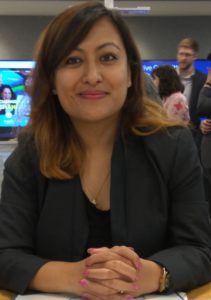 Swarnima Shrestha, Communications and Fundraising Fellow
Swarnima has a Master's in Development Communications and in English Literature. At IANGEL, Swarnima serves as a Communications and Fundraising Fellow through the Atlas Corps Fellowship. Experienced in Development Communications with a passion for working in the non-profit sector, she has worked in the grassroots as well as strategic level with organizations such as UNICEF, UNCDF, Equal Access and Practical Action amongst others. The areas of her expertise include drafting communications and outreach strategies, emergency communications, branding, social media management, and capacity building. She is also a co-founder of Snowyak Foundation, which helps to support the education of marginalized children in the remote part of Nepal.
Johanna

 Kanes, UC Hastings Bridge Fellow 
 Johanna works on a wide range of projects as a 2019 Bridge Fellow for IANGEL. Previously, Johanna volunteered with IANGEL to create a social media strategy. She graduated from UC Hastings College of the Law in 2018. At UC Hastings, she was a Legal Writing and Research Teaching Assistant, an editor for the Hastings Business Law Journal. While at UC Hastings, she was a law clerk for a boutique litigation firm in San Francisco. She received her LL.M. in European Law with high honors from Université Paris II Panthéon-Assas in Paris, France in 2018. She graduated from the University of California, Davis, in 2014 with high honors in International Relations.