Kamardip Singh, Executive Director
Kamardip Singh leads IANGEL with a decade-long career focused on international women's rights and social justice. Prior to IANGEL, Kamardip served on the Resourcing Women's Rights team at the Association for Women's Rights in Development (AWID), honing her political analysis of global women's rights and the sociopolitical contexts in which our social justice movements operate. Prior to her time at AWID, Kamardip was the Program Officer for Asia and the Pacific at Global Fund for Women, a grantmaker to groups and organizations defending the rights of women.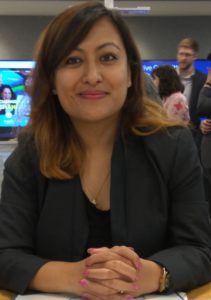 Swarnima Shrestha, Communications and Fundraising Fellow
Swarnima has a Master's in Development Communications and in English Literature. At IANGEL, Swarnima serves as a Communications and Fundraising Fellow through the Atlas Corps Fellowship. Experienced in Development Communications with a passion for working in the non-profit sector, she has worked with UNICEF, UNCDF, Equal Access and Practical Action amongst others. Her areas of her expertise include drafting communications and outreach strategies, emergency communications, branding, social media management, and capacity building. She is also a founding member of Snowyak Foundation, which helps to support the education of marginalized children in the remote part of Nepal.
Courtney King, Administrative Assistant
Courtney King graduated from the University of San Francisco in 2015 with a double degree in Communication Studies and Performing Arts & Social Justice with an emphasis in Dance. At IANGEL, she works as the administrative assistant offering organization and support in event logistics, database management, and bookkeeping. Her interest and commitment to gender equity, feminism, queer studies and performance theory brought her to IANGEL. Outside of IANGEL, Courtney co-founded a contemporary dance company, Chlo & Co Dance.