(San Francisco, USA) by IANGEL President, Nancy J. Newman  
A new president of the United States was sworn in on January 20, 2017. On January 21, 2017, we marched. All around the country, and all around the world, women, girls, and people who love them, marched. On that day, a movement was born. And it was yuge.
The day was remarkable, in so many ways. Despite fears of violence and disruption, the marches were entirely peaceful. IANGEL marched in Oakland, San Francisco, Seattle, and Boston. That morning, people were packed into BART trains like sardines, barely able to move. Yet there was no strife. On the contrary, those BART cars were filled with the ebullience of strangers, motivated by love of their country and the beautiful tapestry of its people, coming together under themes of resistance, freedom, equality, and love. What a joyful sound it was.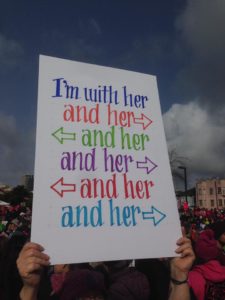 The signs were amazing, reflecting the wry humor and steadfast defiance that is both necessary and appropriate for a movement of historic change. "You're so vain, you probably thought this march was about you." "I march for love, equality, and justice." Even children carried signs: from the basic "Girl power!" to "Presidents should know more stuff, and not be mean." My family and I stayed up late the night before, putting finishing touches on our hand painted signs: "Rising up" and "Standing strong." The wonderful creativity and genius displayed by the variety of compelling and amusing signs was matched by the hilarious ubiquity of hand-made pink pussy hats, worn by tens of thousands in Oakland alone, including one gigantic such hat on the imposing statue of Frank Ogawa in Oakland's central plaza. How did they do that?
The day was marked by surprising and wonderful gestures of comradery and support. From the couple serving coffee to anyone who needed a cup, to the woman offering fresh blueberry scones around the crowd, to the restaurant we visited afterward that gave all marchers a free brownie, we witnessed countless acts of kindness among thousands and thousands of strangers. We sang "This Land is Your Land" and "We shall overcome." And we marveled at the unmistakable power of grassroots resistance.
The magnificence of that experience, on that singular, beautiful day was then multiplied, as we read with amazement just how massive this new movement actually was. Millions of people marched that day. The New York Times ran photographs of the marches that had occurred that day in 78 cities in 43 states, and in an additional 49 cities in 38 countries around the world! In case you missed that powerful collection of images, a list of marches follows. That list gives me hope. And like the march itself, it gives us the strength to rise up, and stand strong for the values we cherish, and the principles of equality and justice that motivate our work. Preserve the feeling of January 21, 2017. It is a precious elixir of inspiration. Take a sip when you need it, in the years ahead.