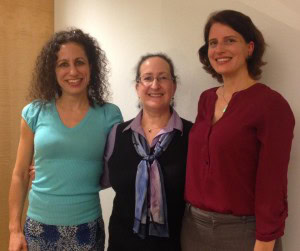 (San Francisco, USA) by Catherine Born
On March 9, 2016, IANGEL welcomed Lisa Block, Program Officer for Sub-Saharan Africa with the Global Fund for Women, and Rebecca Hooley, a Director with IANGEL and former president of Queen's Bench, for a discussion on the recent court decision to eliminate child marriage in Zimbabwe. The event was graciously hosted by the Hanson Bridgett Women's Impact Network and moderated by Nancy Newman, Founder and President of IANGEL.
At the IANGEL event, we discussed child marriage in the SADC (South African Development Community) Region and the recent decision by the Constitutional Court of Zimbabwe raising the legal age of marriage from 16 to 18. This landmark decision is a testament to the collective power of nonprofit organizations to inspire positive change.
Child marriage, defined as a formal marriage or informal union before age 18, continues to be a global problem. While both boys and girls are impacted by child marriage, girls are disproportionately affected by it. Girls who marry before the age of 18 are less likely to complete their education and more likely to experience domestic violence. Oftentimes they do not have a choice in family planning and are also more likely to face complications in pregnancy and have a high rate of infant mortality.
The Global Fund for Women has worked alongside African nonprofit organizations to educate girls, their families, and religious and traditional leaders on issues related to child marriage. Lisa Block described how, in Malawi, their work with the Girls Empowerment Network has facilitated support groups and advocated for girls being forced to marry. Memory Banda is a young Malawian woman who escaped child marriage. With support from the Girls Empowerment Network, she has become an advocate for girls in her community. Her powerful TED Talk, A Warrior's Cry Against Child Marriage, has garnered thousands of views. Thanks to her efforts, in 2015 the government of Malawi passed a bill raising the legal marriage age from 15 to 18.
Last year, IANGEL also became involved in the issue of child marriage after being introduced to the Research Advocacy Network (RAU) in Zimbabwe. Through IANGEL, RAU was connected to an international law firm that was able to provide 88.2 pro bono hours to their child marriage project. The work, valued at over $35,000, resulted in RAU's publication on Marriage Laws and the mandated age of consent in the SADC Region, available online here. These joint efforts to educate and influence people change the attitudes of community members and leaders in the region.
In Zimbabwe, petitioners brought the case against child marriage to their Constitutional Court. On January 20, 2016, we received the happy news that a decision was issued by the Constitutional Court in Zimbabwe in favor of the petitioners. The court ruled that it is illegal for a male or female to marry under the age of 18. They also decided that a provision in the Marriage act that allowed girls to marry at the age of 16 was unconstitutional. The court's decision drew on international law.
IANGEL's partner organization in Zimbabwe, RAU, continues to work on the issue of child marriage. There are still inconsistencies in the law and communities must be educated and empowered with knowledge regarding their rights. There is also work to be done in changing perceptions about child marriage.
The Constitutional Court in Zimbabwe's decision is a testament to the joint work of RAU, IANGEL, the Global Fund, and other organizations. In the decision, the Constitutional Court cited unequivocal empirical evidence based on an array of research done by these organizations. Though we are but a drop in the ocean, every small effort can inspire big change.
Hanson Bridgett LLP created this video about the event:
"The Law Is Hereby Struck Down": An Update on the Fight Against Child Marriage in Africa from Hanson Bridgett on Vimeo.
Links:
IANGEL Links:
Click here

to read our post on the Constitutional Court of Zimbabwe's landmark decision.

Click here

 to learn about Kuda Chitsike's IANGEL briefing on child marriage in Zimbabwe.

Click here

to read IANGEL President's blog post about RAU's commitment to justice.
"The Law Is Hereby Struck Down": An Update on the Fight Against Child Marriage in Africa