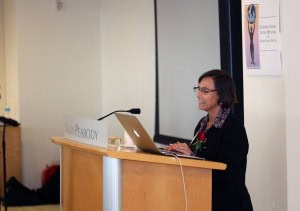 IANGEL congratulates Andrea Carlise, recipient of our 2015 Human Rights & Leadership Award, conferred at our Second Anniversary Celebration.  Ms. Carlise has demonstrated an outstanding commitment to community service and pro bono work on behalf of women and girls. Through her work, she is well known to members of women's bar associations and nonprofit organizations — both locally and nationally.
When IANGEL announced that Andrea was selected as the recipient of this award, leaders from women's bar associations across the country reached out to congratulate Andrea for her inspiring leadership— almost all of them commenting that the award was "well deserved", which is undeniable when you look at her record of service.
Andrea's work began locally with Queen's Bench, a San Francisco Bay Area based women's bar association, which aims to advance women in law, as well as equality and opportunity for all women. Through Queen's Bench, she served on the Board of Directors, chaired the Reproductive Rights Committee, the Scholarship Committee and to this day continues to actively provide input on various legislative issues.
Andrea soon moved on to the state level, becoming active with California Women Lawyers, the women's state bar association. Andrea progressed quickly through the ranks and in 2002-2003 she served as the president of California Women Lawyers. From there Andrea again ascended, and in 2013 she became the President of the National Conference of Women's Bar Associations, a national organization that works to advance gender equity for women in the legal profession, on the bench and in society at-large.
At the same time as she was leading these bar associations, Andrea worked to improve California's laws through her service with the Conference of California Bar Associations. By working with the Conference, she helped to decide which resolutions the Conference ultimately recommended to the state legislature. Andrea also involved herself in crafting these resolutions, including a resolution to amend laws relating to marital rape –a change that was eventually made by the legislature in 2013.
In addition to her involvement with these organizations, she has volunteered as a Court Appointed Special Advocate, representing children in Juvenile Court dependency proceedings, and assisted Equal Rights Advocates to defeat a measure that would have required parental notification before the termination of a minor's pregnancy.  She also has served on the No Glass Ceiling Monitoring Task Force of the San Francisco Bar Association, a committee that has the goal of increasing opportunities for women to serve in leadership positions within the legal profession. 
Currently Andrea is President of the Board of Girls Inc. of the Island City. Through her work with Girls Inc., Andrea helps girls achieve their goals of becoming strong, smart and bold- and generally helps them build the skills that they need to succeed.
In addition to her outstanding leadership and work in helping advance women's rights and standing, Andrea still finds time to practice law and has a thriving employment and civil rights law practice at Patton, Wolan & Carlise. 
2015 Rights & Leadership Awardee: Andrea Carlise