IANGEL Congratulates UC Davis Law School Professor Karima Bennoune on Endowed Chair Appointment
Recently IANGEL attended "International Law and Women's Rights – Building the Global Jurisprudence of Sex Equality," a lecture given by Karima Bennoune at UC Davis School of Law to mark her appointment as the Homer G. Angelo and Ann Berryhill Endowed Chair and Martin Luther King Jr. Professor of Law. Ms. Bennoune is the United Nations Special Rapporteur in the field of cultural rights, a professor at UC Davis Law and the author of Your Fatwa Does Not Apply Here– Untold Stories of the Fight Against Muslim Fundamentalism. IANGEL awarded Ms. Bennoune its 2016 Amel Zenoune-Zouani Rights & Leadership Award. 
In her lecture, which marked her appointment as the only woman to be an endowed professor at UC Davis Law, Ms. Bennoune began with a tribute to her mother and dedication to her two grandmothers, one Algerian, the other American, who inspire her work for women's human rights.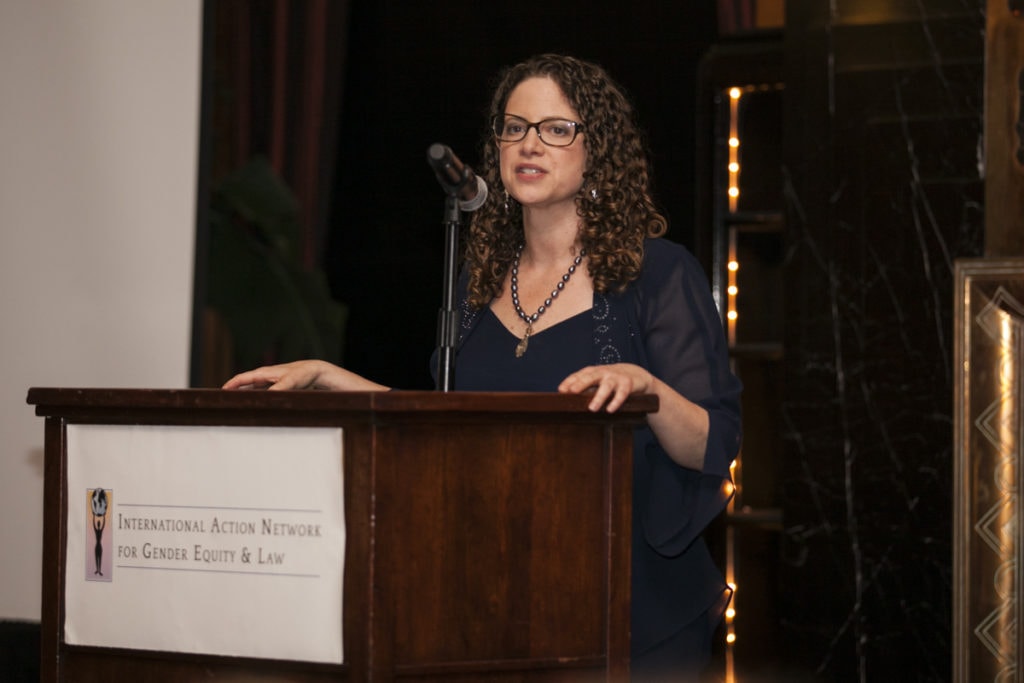 The lecture traced the historical development of sex equality in human rights law to demonstrate how the struggle for women's human rights has shaped current movements. For example Article 5(a) of CEDAW, which requires that states take measures to eliminate prejudices and practices based on the inferiority of either sex, was shaped by feminist advocacy and aims to create a framework for change.
While there is a strong basis for equality in international law, closing the gap between the law and "women's lived experiences" is critical to advancing sex equality. The challenges to closing the gap include:
– facing discrimination from multiple actors, not just states
– dealing with the "alarming backlash" to movements
– breaking down taboos on speaking about women's human rights
– international law's tendency to center family over women's rights
– reservations that undermine treaties' purposes and intent
"We have many of the [international law] norms that we need, we [now] need further advocacy based on strategic thinking."
This point is made starkly apparent by the facts that the U.S. has failed to ratify CEDAW and the Trump administration is highly unlikely to do so given its focus on repealing and weakening human rights law. Strategic thinking will surely be needed to continue the advancement of sex equality in the U.S.
Sex equality, Ms. Bennoune noted, is not a western concept. The struggle is global, discrimination is universal, and we are "not in a post-feminist world." Less than 20% of land owned on earth is owned by women; 2/3rd of illiterate people are women; and only 24.5% of parliamentarians in the world are women. The pervasiveness of sex discrimination globally underscores why international law is so important to advancing human rights. International law creates norms, standards and measures for state accountability. 
Professor Bennoune issued a resounding call for hope and the sustained activism of successive generations. She cited the continued persistence of women's human rights defenders recent victories such as:
– the all women team addressing sexual harassment within the UN
– the treaty adopted by the ILO against violence and harassment at work
– Ireland's repeal of its constitutional amendment prohibiting abortion
"How can we despair if women around the world are persisting in the fight for sex equality?

Optimism is the key to survival."
IANGEL congratulates Ms. Bennoune on her endowed chair appointment and thanks her deeply for her work. Recently as U.N. Special Rapporteur, Ms. Bennoune provided a report to the UN General Assembly on cultural rights and public spaces, in which she cited IANGEL's work. You can read more here and plan to join us at our upcoming gala by registering here.

Bennoune's Endowed Chair Appointment & Inaugural Lecture