The Research and Advocacy Unit (RAU), an IANGEL partner organization in Zimbabwe, is an independent non-governmental organisation that fosters citizen agency through high quality research and advocacy. 
Their Executive Director, Kuda Chitsike, gave a briefing on child marriage in Zimbabwe in San Francisco in May 2015.  Through IANGEL, RAU was connected with an international law firm that was able to provide 88.2 pro bono hours to their child marriage project, valued at over $35,000 during the period from June through August 2015.  This pro bono service contribution resulted in RAU's publication in August 2015 on Marriage Laws and the mandated age of consent in the Southern African Development Community (SADC) Region, available online here.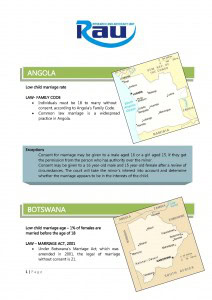 The report summarizes marriage laws in the fifteen SADC countries and cites the level of child marriage in each country. While the rate of child marriage is low in countries such as Angola, Botswana, Mauritius, Namibia, Seychlles, South Africa, and Swaziland; it remained alarmingly high in the DRC, Lesotho, Madagascar, Malawi, Mozambique, Tanzania, Zambia, and Zimbabwe. The highest rates of child marriage were found in Madagascar, Malawi, Mozambique, where close to 50% of individuals were married before the age of 18.
Child marriage is defined as a formal marriage or informal union before age 18. While both boys and girls are impacted by child marriage, girls are disproportionately affected by it. Girls who marry before the age of 18 are less likely to remain in school and more likely to experience domestic violence. They are also more likely to die from complications in pregnancy and childbirth, and have a high rate of infant mortality.
Links:
Click here

to visit the RAU website and learn more about their work.

Click here

 to learn about Kuda Chitsike's briefing on child marriage in Zimbabwe

Click here

to read IANGEL President's blog post about RAU's commitment to justice
Child Marriage in the SADC Region