(Online, Worldwide) by Toan Do
IANGEL provides support to the Czech Helsinki Committee's efforts to enact legislation compensating victims of forced sterilization in the Czech Republic.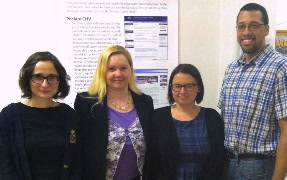 In the mid-twentieth century, sterilization became an extremely common form of population control across the world. During this time, millions of people all over the globe were forcibly sterilized. This practice was justified by the once popular belief known as eugenics, based on the misconception that the human genetic makeup can be improved by preventing those deemed inferior to procreate.
Governments that practiced forced sterilizations targeted people living in poverty, indigenous groups, ethnic minorities and transgender communities, focusing particularly on the women from these groups. The vast majority of women who were forcibly sterilized were not compensated for this egregious human rights violation.
To change this, IANGEL has partnered with the Czech Helsinki Committee, a non-governmental organization based in a country with a history of forced sterilization. 
The Czech Republic, forced sterilization, and the Czech Helsinki Committee
During the 1970s, the communist regime of Czechoslovakia (now the Czech Republic and Slovakia) carried out a vast number of forced sterilizations under the justification of eugenics. Women from the Roma community, one of Eastern Europe's largest ethnic minority groups, which has historically suffered severe discrimination, were disproportionately targeted for sterilization. Social workers used the promise of financial incentives to secure compliance or the threat of sanctions to coerce it. In some cases, women were presented with consent forms during caesarian sections or during labor when they were in pain and under great duress. In almost all cases, the woman's lack of education was exploited.
In 2009, the Czech Government expressed its regret for the forced sterilizations, a practice now described as genocidal. The Czech ombudsman (the Public Defender of Rights) ordered an investigation of the Czech Health Ministry and critiqued it for failing to conclude that the forced sterilization procedures constituted legal and human rights violations. The ombudsman's report became the basis for international human rights bodies and non-governmental organizations', such as the Czech Helsinki Committee, call upon the Czech Republic to take urgent action to redress victims of forced sterilization.
The Czech Helsinki Committee (CHC) was founded in 1988 and is a non-governmental organization devoted to protecting human rights in the Czech Republic. The CHC's main spheres of work include observance of human rights in the Czech Republic, fighting racism and intolerance, improving the prison system and criminal justice, and providing human rights education. These areas cover different forms of work such as participating in advisory and project activities, monitoring and analytical activities, and publishing and providing educational activities.
Collaborative Research with a Virtual Team
By providing collaborative research and strategic consulting support through a virtual team, IANGEL has now partnered with the CHC in its efforts to advise the Czech government on drafting legislation that establishes state responsibility for the practice of forced sterilization and compensates (or otherwise provides appropriate methods of redress for) victims of forced sterilization in the Czech Republic. IANGEL volunteers based across the US and internationally, and led by one of its board members, Mary Wolverton, provide legal research for the Czech Helsinki Committee team.
Using Basecamp, a web-based project management tool, volunteers can easily drop any and all kinds of research documents into a virtual space where the CHC team can review them. The virtual space also allows volunteers to communicate with each other and the CHC team remotely. The project's website becomes a virtual space in which an international team can collaborate regardless of time zone.
Join the IANGEL network
Ultimately, projects like the Czech Helsinki Project, would not be possible without the generous support of volunteers from organizations such as IANGEL lending their expertise. 
If you'd like to lend your expertise to this project (or any others) and join our team of volunteers please click HERE.
If you'd like to support IANGEL and the CHC's efforts by donating, please click HERE.
For more information, please contact info [at] iangel.org 
Collaborative Research with a Virtual Team