At IANGEL, we harness the power of pro bono legal assistance, connecting it to the cause of women's rights locally, nationally, and around the world. We amplify our voice towards building a just world where everyone has an equal access to justice. This report provides a brief synopsis of IANGEL's work over the past five years especially focusing on the current year 2018. This year has been remarkable for us in many ways.
In 2018, recognizing the need for a trauma-informed and survivor-centered approach in our pro bono efforts, we piloted our first ever attorney-training, focusing specifically on legal relief for survivors of trafficking. These trainings pair technical legal skills with modules on survivor-centric, and trauma-informed approaches when building client-attorney relationships.
In 2017, we began our partnership with UN Women, mapping child marriage and age of majority laws in the Asia Pacific, with our research capturing legal exceptions to seemingly non-discriminatory laws. This built upon our previous work supporting women's rights organizations challenging discriminatory child marriage laws in Zimbabwe, where the advocates were ultimately successful.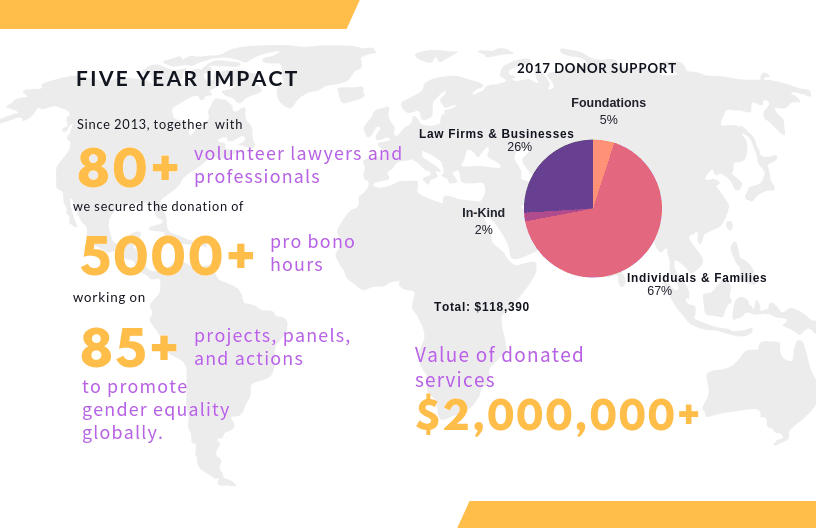 Likewise, we continued our advocacy efforts on issues of women's rights and gender justice in international and domestic spaces. Our advocacy efforts focus on encouraging multilateral and bilateral institutions, such as the United Nations and the U.S. State Department, to prioritize funding for women and girls, to support the rights of LGBTQI people, to end workplace discrimination, and to seriously address gender-based violence through adequate laws, policies, and funding to support legal implementation.
The impact that we were able to make over the years would not have been possible without the support of our donors and volunteers. If you want to be a part of our network please sign up as a volunteer. 
Read the full report to find more of the impact we were able to make through our work.
IANGEL Report_ electronic version

IANGEL Impact Report 2018