On April 25, 2019, gender justice activists, attorneys, judges, partners, and supporters gathered in San Francisco to celebrate IANGEL's 6th Anniversary.  The Gala Dinner, themed "The Future is Ours", featured two extraordinary women who have made outstanding contributions to the promotion and protection of women's rights and gender equality — Rights & Leadership Awardee Dr. Riffat Hassan, and keynote speaker Sanam Naraghi-Anderlini. It was an inspiring evening, filled with thought-provoking remarks, insights, and wonderful live music.
IANGEL's Executive Director, Andrea Carlise, welcomed the assembled guests and provided an overview of IANGEL's work connecting volunteer lawyers with organizations working to promote women's human rights over the last six years. Soprano Marcelle Dronkers, accompanied by Dr. Bryan Baker, delighted the audience with her mesmerizing performance of Dvořák's "Song to the Moon" from the opera Rusalka.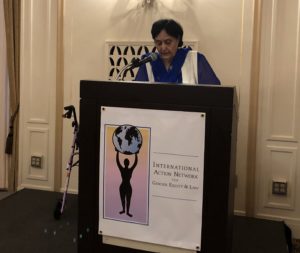 Nancy Newman, IANGEL's founder and president, shared her thoughts on how to stay strong, and hopeful, despite the relentless bad news of our times. She reminded us that despite setbacks, we share an inspired commitment to the future with activists and advocates around the world.  We gain strength from the memories of brave leaders in our past, and from the sacrifices, so many have made for the hard-fought progress we enjoy today. She invited the audience to join her in singing the 1970 Malvina Reynolds song "There's a Bottom Below," noting it could well be the anthem of our times. The joy of singing together confirmed we have much to celebrate, including the emergence of remarkable women leaders like our keynote speaker, Sanam Anderlini, working for world peace through women's empowerment, and the groundbreaking work of our honoree, Dr. Riffat Hassan, in challenging patriarchal structures in Islam. Nancy's comments inspired us to keep working together and assured us that if we do, the future indeed will be ours.
IANGEL vice president, Rebecca Hooley, then presented the 2019 Amel Zenoune-Zouani Rights & Leadership Award to Dr. Riffat Hassan. Dr. Hassan was praised for her decades of achievement as an internationally acclaimed scholar of the Qur'an, a pioneer of feminist theology in Islam, and a fearless advocate for the equal dignity of women. Accepting the award, Dr. Hassan honored the memory of Amel, who was murdered by fundamentalists in Algeria in 1997 for refusing to give up her legal studies. Dr. Hassan asked the audience, "Are we here today just to mourn for Amel and denounce her killers or is there a deeper purpose for this gathering?" In answering that question, she provided examples of her own life experience rebelling against traditional norms in her native Pakistan and challenging the patriarchal establishment throughout her life.  She concluded her remarks by noting that the deeper purpose of the gathering was to take inspiration from Amel as a model for all Muslim women. "The spirit of Amel challenges all women to fight for their fundamental rights and not give up or give in even in the toughest of times."
The keynote speaker for the evening, Sanam Naraghi-Anderlini, was introduced by her friend and former colleague, IANGEL board member Jolynn Shoemaker. Ms. Naraghi-Anderlini, the Founder and Executive Director of the International Civil Society Action Network (ICAN), is a leading international advocate, researcher, trainer, and writer on conflict prevention and peacebuilding. Her address highlighted the importance of funding peace-building efforts as a necessity for other sectors of society, such as health, education, and a commitment to gender equality, to flourish. She noted that peace is the essence of development and a prerequisite for any society to prosper. Ms. Naraghi-Anderlini emphasized the need for peace and security in establishing all just societies and in ensuring that gender equality is a human right for all.
The evening concluded on an upbeat note, with a stirring performance by Marcelle Dronkers and friends, of "Our Time" from the musical Merrily We Roll Along, by Stephen Sondheim.  It was a wonderful evening, filled with insights, stories, emotion, music, and inspiration to build a just and inclusive future that belongs to all of us.
IANGEL is deeply grateful to generous gala Visionary and Innovator sponsors, Hanson Bridgett, Tom and Johannah Newman, and Keker Van Nest & Peters as well as Table Hosts Rosen Bien Galvin & Grunfield, LLP, Terra Insurance Company, Emily Charley, Eliza Rodrigues and Barbara O'Hearn.  Thanks also go to gala Change Agents and Trendsetters, magnificent musicians Marcelle Dronkers and Bryan Baker, and all who attended the event and continue to support our work as we build our movement for transformative gender justice, globally.
Click below to view more pictures of the event.
Click below to view the program:
Final Gala Program- 2019

The Future is Ours – IANGEL's 6th Anniversary Dinner