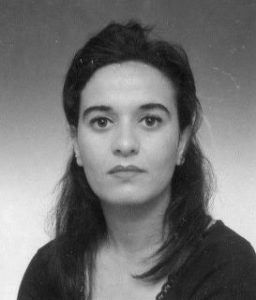 IANGEL's Rights & Leadership Award was established in 2015 to honor exemplary leaders promoting women's rights and gender equality. In 2018, the Rights & Leadership Award was named for Amel Zenoune-Zouani, an Algerian law student who was murdered by fundamentalists in 1988 for refusing to give up her studies.  The award in Amel's memory keeps her in our hearts and minds, reminds us of the sacrifices made in pursuit of gender equality, and inspires us to continue the hard work ahead.
Honorees receiving the IANGEL Rights & Leadership Award have achieved professional excellence in their field and have –
made an outstanding contribution to the promotion and protection of women's rights;

exhibited courage in overcoming injustice and advancing gender equality;

opened doors for women to opportunities that historically were closed to them; and/or

shown dedication toward social justice and have used to advocacy and the rule of law to achieve their goals.
---
IANGEL bestows the Rights & Leadership Award annually
at the Spring Anniversary Gala.
2019
Dr. Riffat Hassan was honored with 2019 Amel Zenoune-Zouani Rights & Leadership Award, for her decades of achievement as an internationally acclaimed scholar of the Qur'an, a pioneer of feminist theology in Islam, and a fearless advocate for the equal dignity of women. 
2018
The Amel Zenoune-Zouani Rights & Leadership Award in 2018 was received by the Honorable Angela Bradstreet during the 5th Anniversary Gala event on March 8, 2018. Hon. Angela M. Bradstreet is a judge of the San Francisco Superior Court.  Judge Bradstreet was honored for her unwavering championship of the advancement of women in the legal profession, her effective leadership for gender equality, and her dedication to mentoring the next generation of leaders for equality and justice.
2017
In 2017, Kim Thuy Seelinger received IANGEL's Rights & Leadership Award at its 4th Anniversary Gala Luncheon, which was held at the City Club of San Francisco on International Women's Day, March 8, 2017. Professor Kim Thuy Seelinger, of Berkeley Law's Human Rights Clinic, received the award for her outstanding contributions as an advocate for global women's rights, and trailblazing work in holding the former dictator of Chad accountable for rape as a war crime and violation of international human rights.
2016
Karima Bennoune, who has spent her career advocating and supporting democracy, equality, and human and gender rights and is the author of Your Fatwa Does Not Apply Here: Untold Stories from the Fight Against Muslim Fundamentalism was awarded the Rights & Leadership Award at IANGEL's 3rd Anniversary Celebration, Acts of Courage – Seeds of Hope.
2015
IANGEL's Rights & Leadership Award was conferred upon two honorees, Yoana Tchoukleva and Andrea Carlise at IANGEL's 2nd Anniversary Celebration, Generations of Inspiration. They were awarded for their passionate advocacy and contribution to gender equity, human rights, and inclusion.